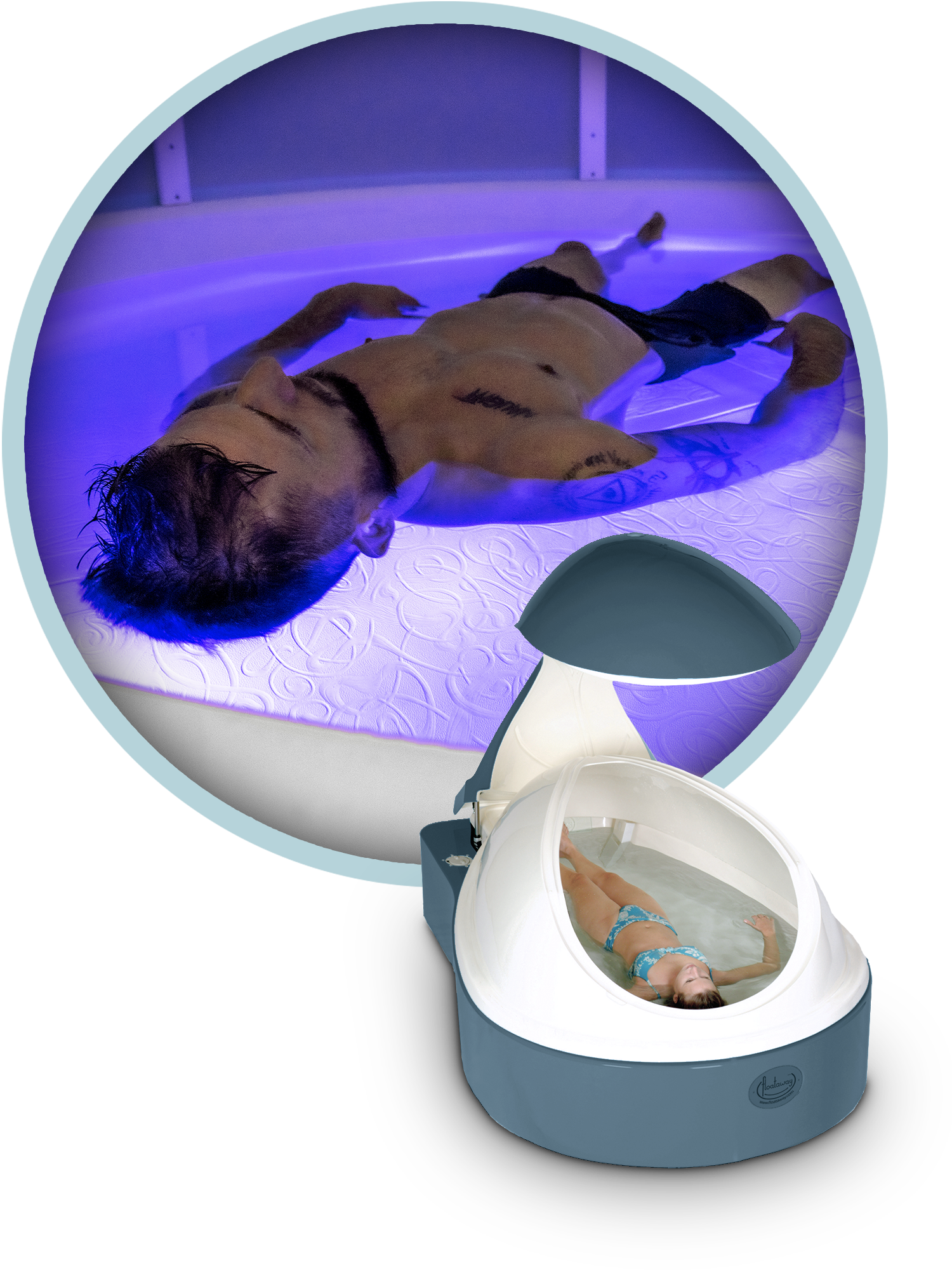 Floatation Therapy is essentially a way of achieving deep relaxation by spending an hour or more lying quietly in darkness, floating effortlessly in a warm solution of Epsom salt that is more dense that the Dead Sea. Float pools/tanks are also known as isolation tanks, sensory deprivation tanks & REST (Restricted Environmental Stimulation Therapy) chambers.
Free from gravity and external stimulation, you are able to relax in a meditative state. You can listen to soothing music (bring your device and we'll plug it in) or float in serene silence in your private float room equipped with a shower. Floating is safe, all natural and therapeutic, and offers a multitude of benefits for body, mind and spirit.
FIRST-TIMER SPECIAL
SINGLE SESSION
 $80
One 60-Min. Session w/ Free Tea & Oxygen (25% Off)
*1st-Time Customers Only
*First-time customers can choose between the First-Timer Single Session or First-Timer 3-Session package
$80
One 60-Min. Session
Sessions Available Anytime
COUPLES 60-MIN
FLOAT SESSION
 $115
One 60-Min. Session Per Couple
Must Book with a Round Pool
 $65
One 60-Min. Session a Month
Additional Floats Only $72
Additional Benefits
 $100
One 60-Min. Session a Month
Additional Couple's Floats Only $105
Additional Single's Floats Only $72
Additional Benefits
SINGLE'S FLOAT &
MASSAGE MEMBERSHIP
 $145
One 60-Min. Float & One 60-Min.
Massage Session Per Month
Additional Floats Only $72
Additional Massages Only $85.50
All Float Memberships Enjoy:
10% off retail, tea, oxygen, gift certificates, CBD upgrades and more!
If no one is scheduled in your float room after your session at the time of your check-in, you can request an extra hour at no extra charge.
Get rewards when you hit certain float levels.
Special Members-Only monthly drawings and specials throughout the year.
Unlimited Floats for Members
As a member, you can purchase unlimited additional floats for $72. Best of all these floats can be shared with friends and family.
Month-to-Month Roll Overs
Memberships offer a low commitment, no contract, 30-day notice to cancel policy. All credits roll over month-to-month, and are shareable and good for 1 year.
Looking for that Perfect Gift?
Give the Gift of Deep Relaxation, with an H2Oasis Gift Card!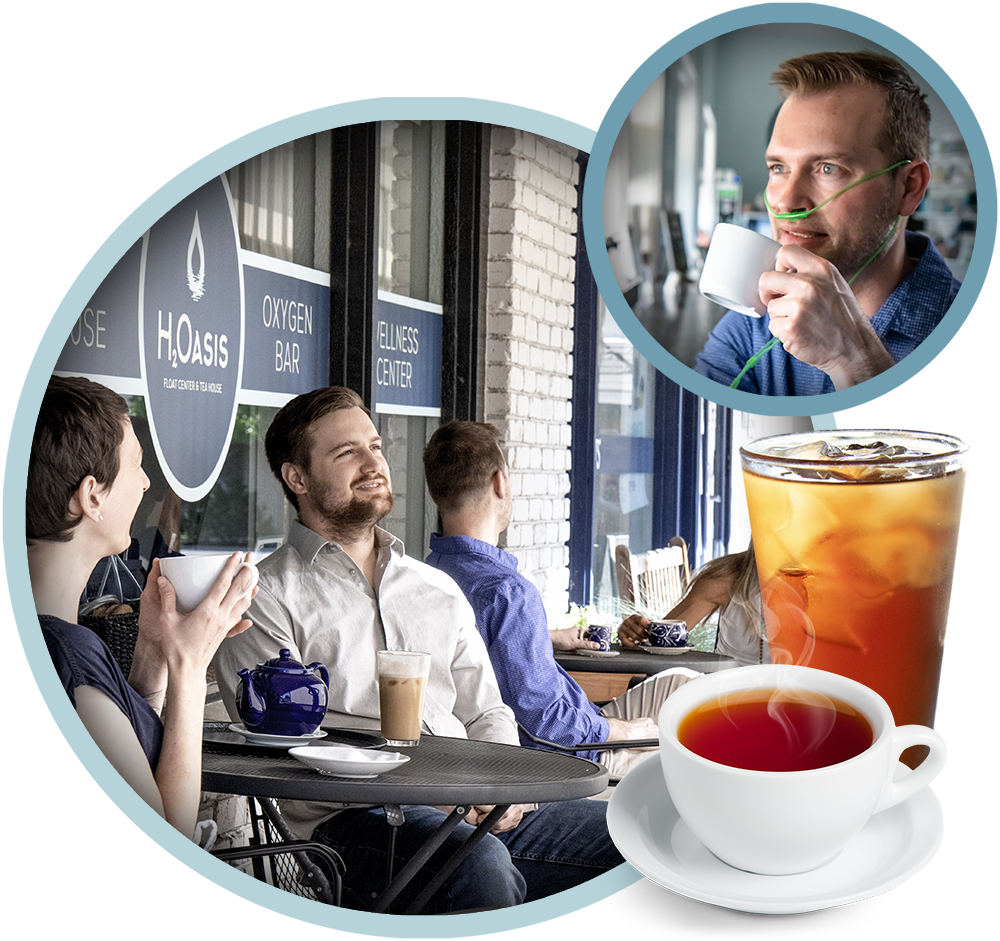 Enjoy one of our more than 65 premium teas, hot or iced. Try our popular house specialty drink packed with antioxidants, catechins and L-Theanine for enhancing alertness with calmness, our Iced Matcha Latte. Enjoy a long lasting energy boost without the usual side effects of stimulants. Treat yourself to one of our new drinking chocolates using Kakawa Chocolate drinks. Meet with friends, have a business meeting or just hang out in The Conscious Lounge (WiFi available).
Our Oxygen Bars provide a great relaxing start to a float session or can be used alone at any time to give your body/brain a boost. Oxygen has been known to increase circulation, speed up metabolism, promote healing, increasing performance, endurance and energy level. Combined with a high-grade essential oil of your choice, an oxygen aromatherapy session uses the natural essences extracted from flowers, bark, stems, leaves, roots and other parts of a plant to enhance psychological and physical well-being. Pick a scent to relax you, help you breathe better, or stimulate you. See what's on tap on our oxygen bar menu. We also offer CBD add-ons to our services or to an oxygen session.
Want to buy packaged tea from H2Oasis? Click the link to learn more.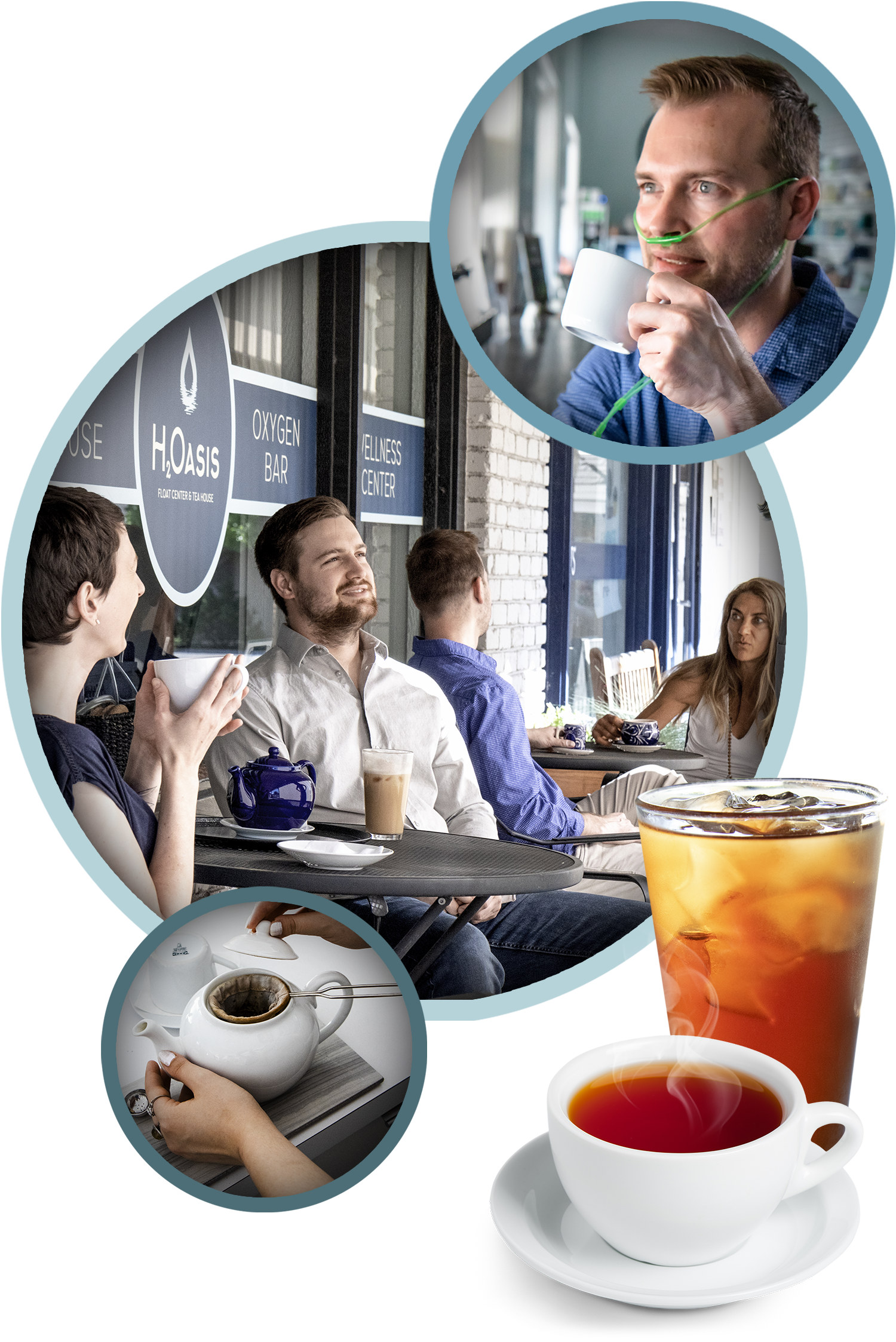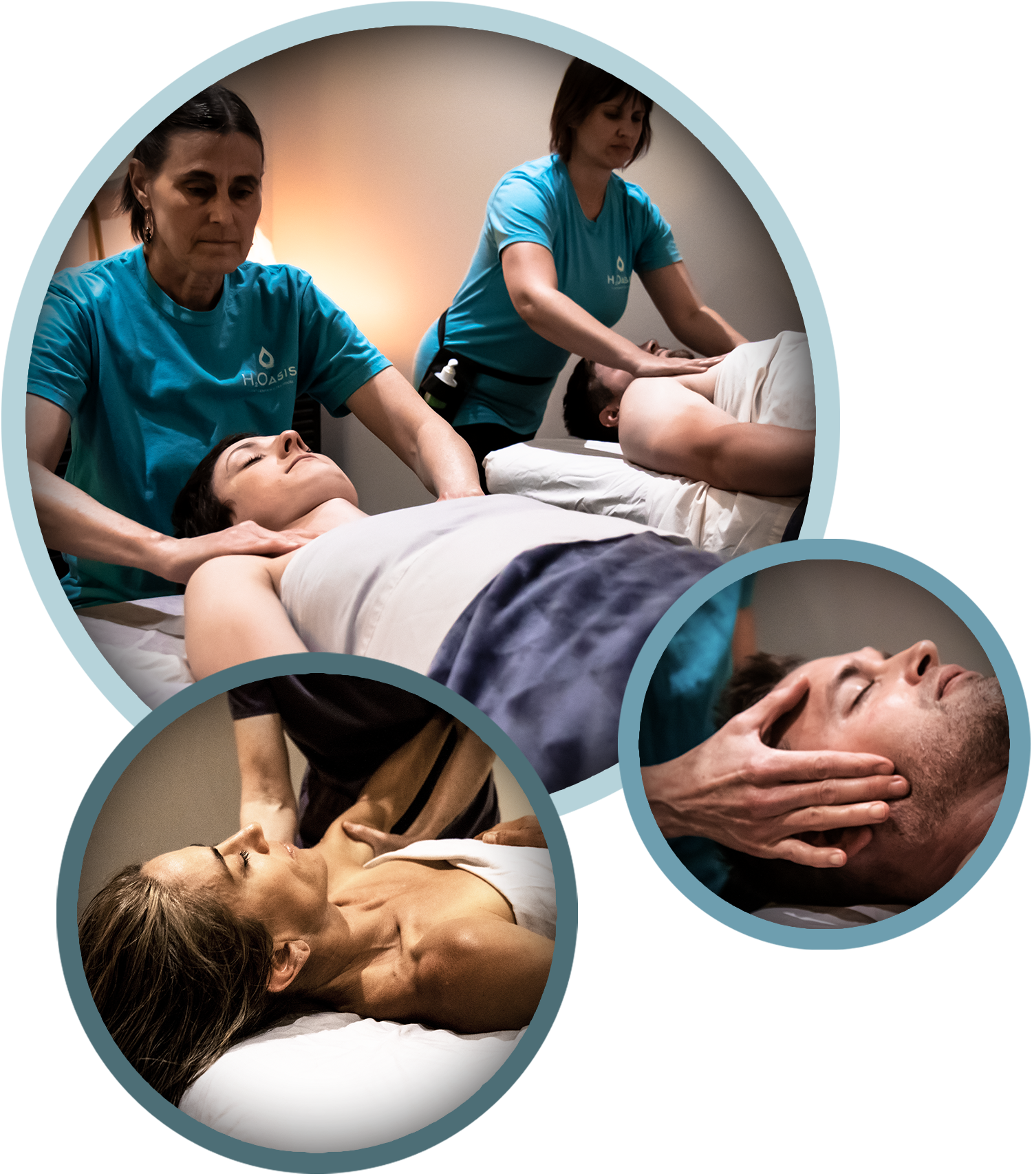 To further enhance your float experience, you can add a therapeutic or relaxation massage for ultimate bliss. We have talented and caring on-call Licensed Massage Therapists. So call ahead or book online if you would like to add a massage treatment to your floatation therapy. The only thing more relaxing than a float session is a float session followed by a massage!
Session Choices:
60-Min Massage: $95
90-Min Massage: $130
120-Min Massage: $165
Couples Massage: $190
20-Min Chair Massage: $25 (when available)
60-Min Reiki: $85
90-Min Reiki: $115
120-Min Reiki: $140
Add-Ons:
Oxygen Aromatherapy: $20 (30 Mins of Oxygen Aromatherapy)
Oxygen Aromatherapy + CBD Treatment: $35 (Includes 30 Mins of Oxygen Aromatherapy w/ CBD Water, CBD Cream, and Full Spectrum CBD Sublingual Drops)
Our Massage & Energy Healing Team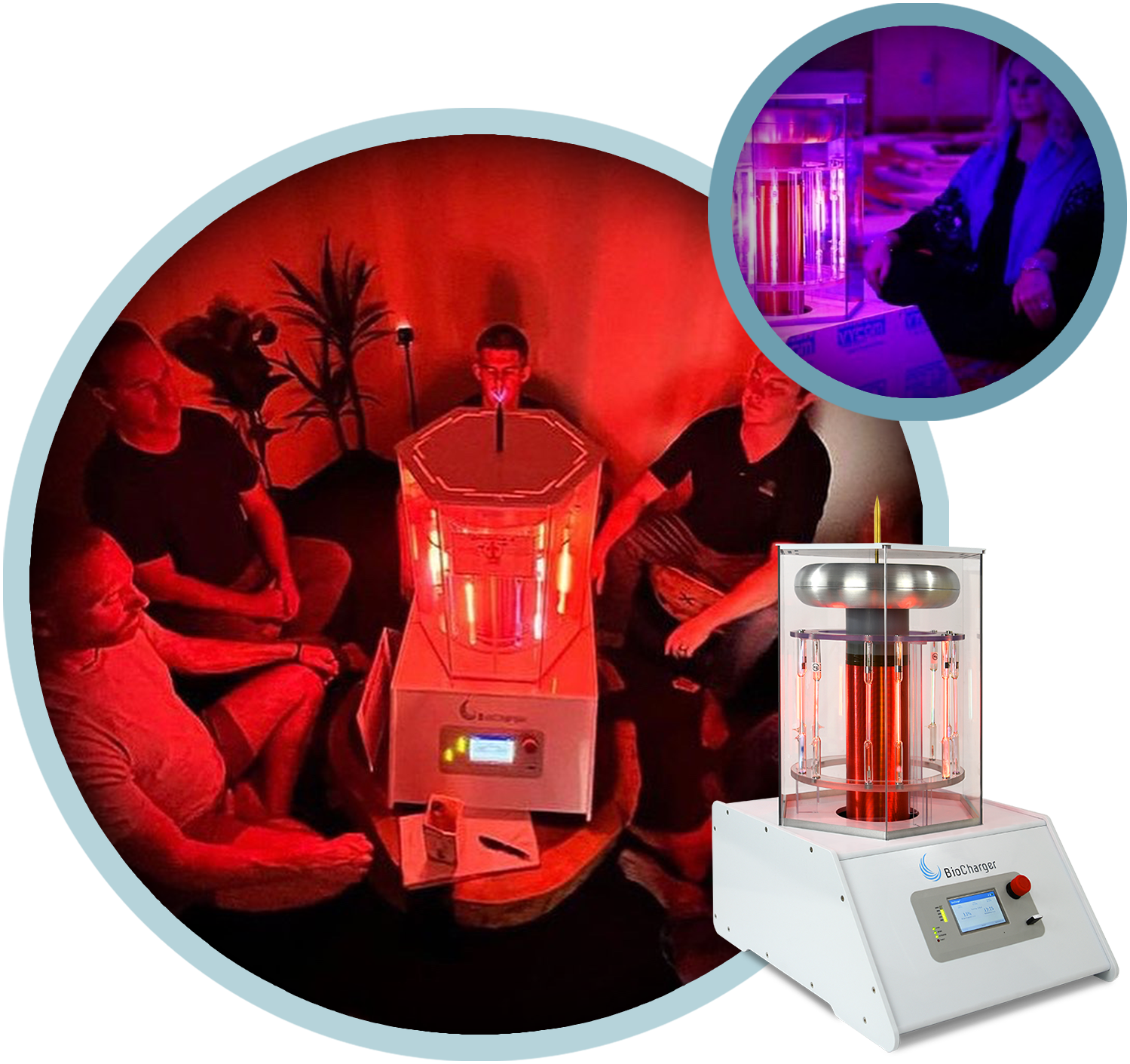 The BioCharger is the only health optimization platform of its kind that is built upon 4 energy types that have all been proven to facilitate better cell function. Each BioCharger session surrounds your entire body with four distinct harmonious energy fields. These transmitted energies have been proven to restore strength, stamina, coordination, and mental clarity. With the BioCharger's advanced technology, you can target a specific aspect of your well-being by selecting one of over 1,000 customized "recipes" from our cloud-based library.
Nature's energy is all around us, and is generated continuously. We often take these energies for granted – think of sunlight or even a gentle breeze. Energy informs and supports our physical, mental, and emotional bodies, restoring and balancing cellular function. It is as fundamental as food when evaluating wellness. When our energetic bodies are out of tune, our physical and mental performance is weaker. Recovery from injuries, exhaustion, and stress occurs more slowly because cellular communication is diminished. When we are able to achieve energetic alignment with our ideal state, we feel invigorated and healthy. We experience sharp focus during the day and renewing sleep at night.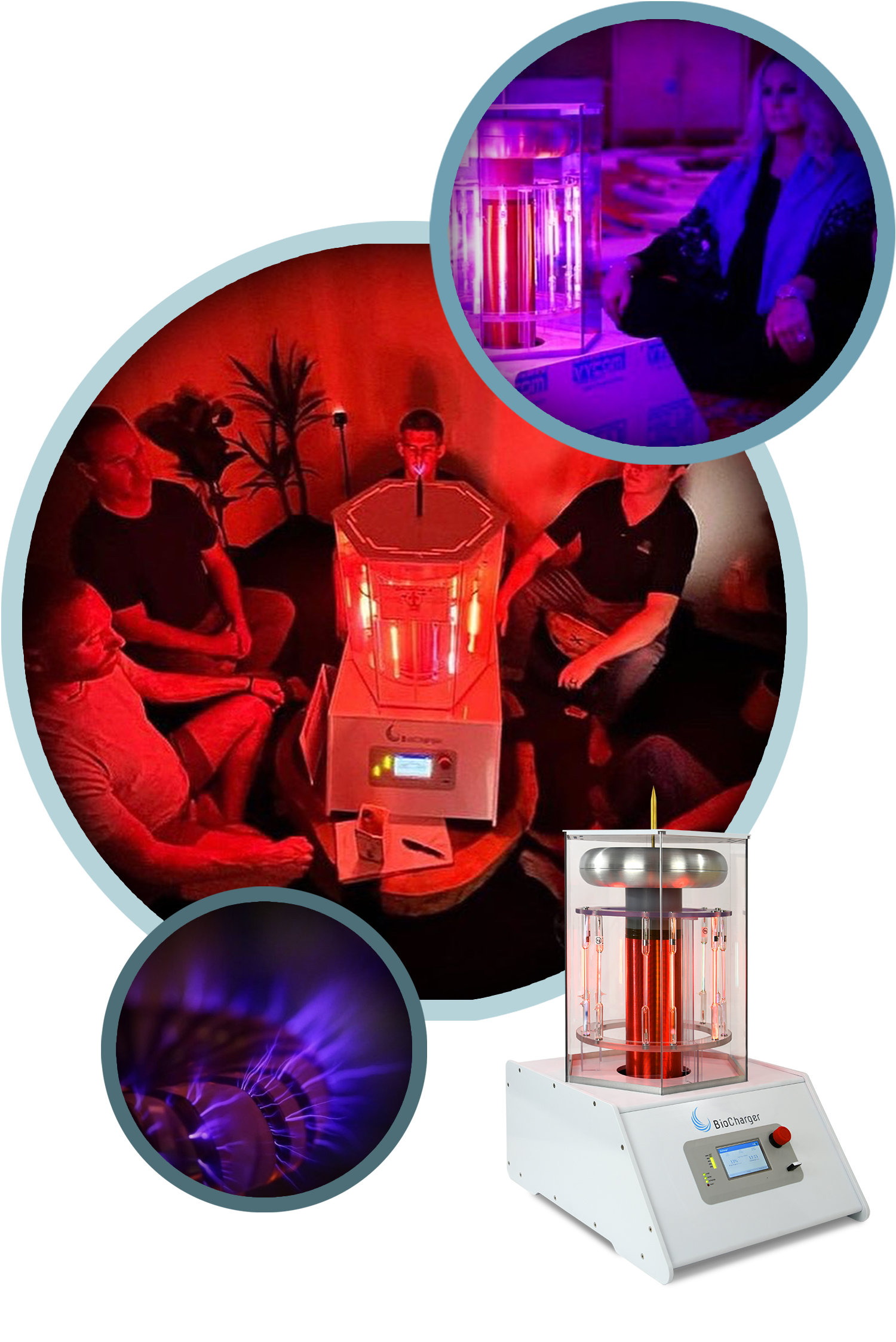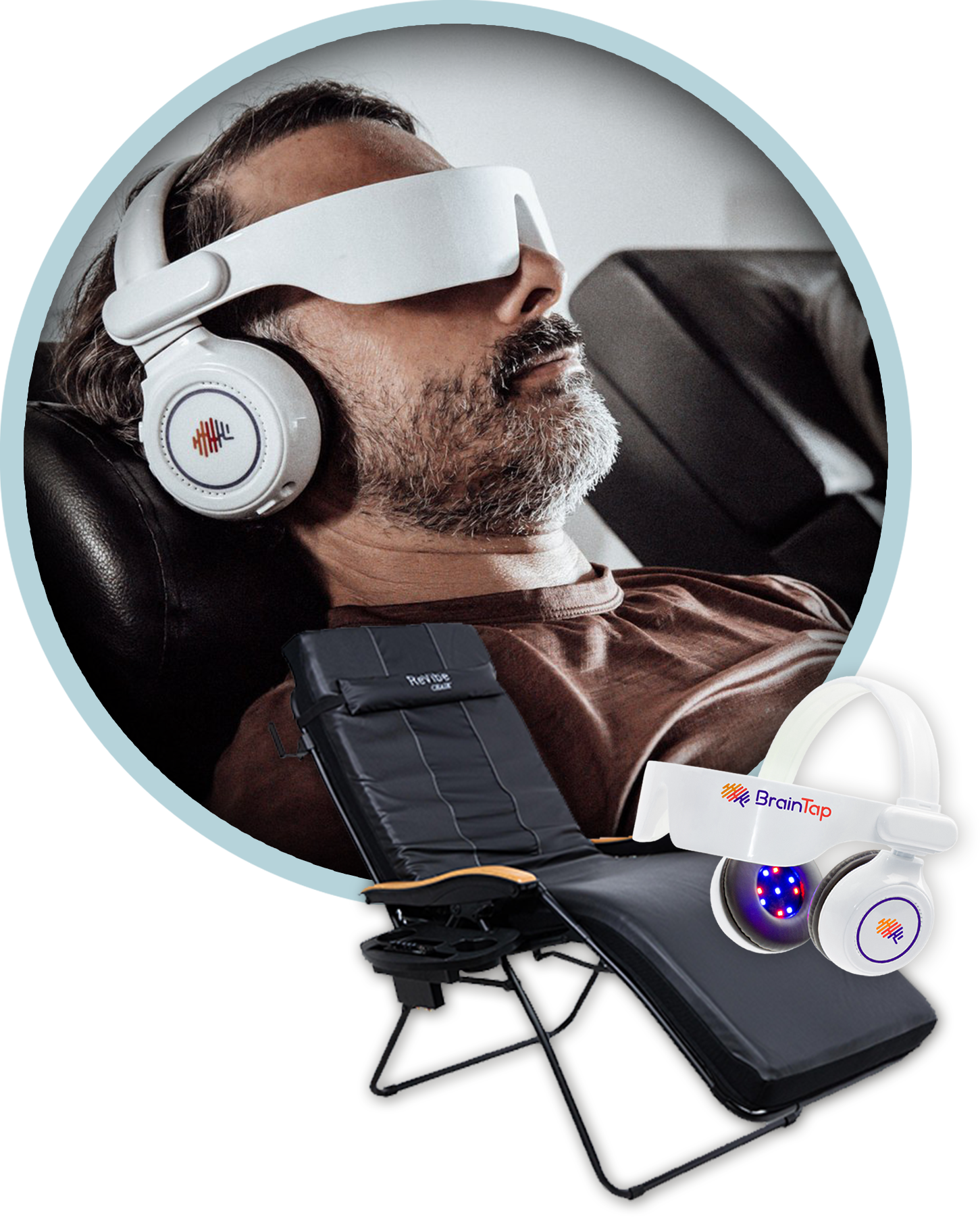 Free yourself from brain fog and stress with vibroacoutics therapy, the cutting-edge technology that harnesses the combination of light and sound to refine your brain's capabilities and bolsters cognitive function, giving you the mental acuity and concentration needed to make informed choices and focus on your goals. BrainTap delivers a full suite of sessions that range across desired life outcomes and tap into different neural pathways in your brain. With over 1,800 unique sessions, you can focus on what's important to you. Unwind, recharge, and revitalize your overall wellness through better brain fitness with BrainTap's unique mix of guided meditation, visualization, and brainwave technology.
Combined with the ReVibe chair, you will transport into an Alpha or Theta state bringing about "The Relaxation Effect". For just 10-20 minutes, users emerge feeling rejuvenated as if they had slept for several hours. They report feeling more alert, level-headed, and ready to face the balance of the day with creativity, purpose, and passion. Activate your brain's peak potential and tap into different neural pathways to think, sleep, and perform, better.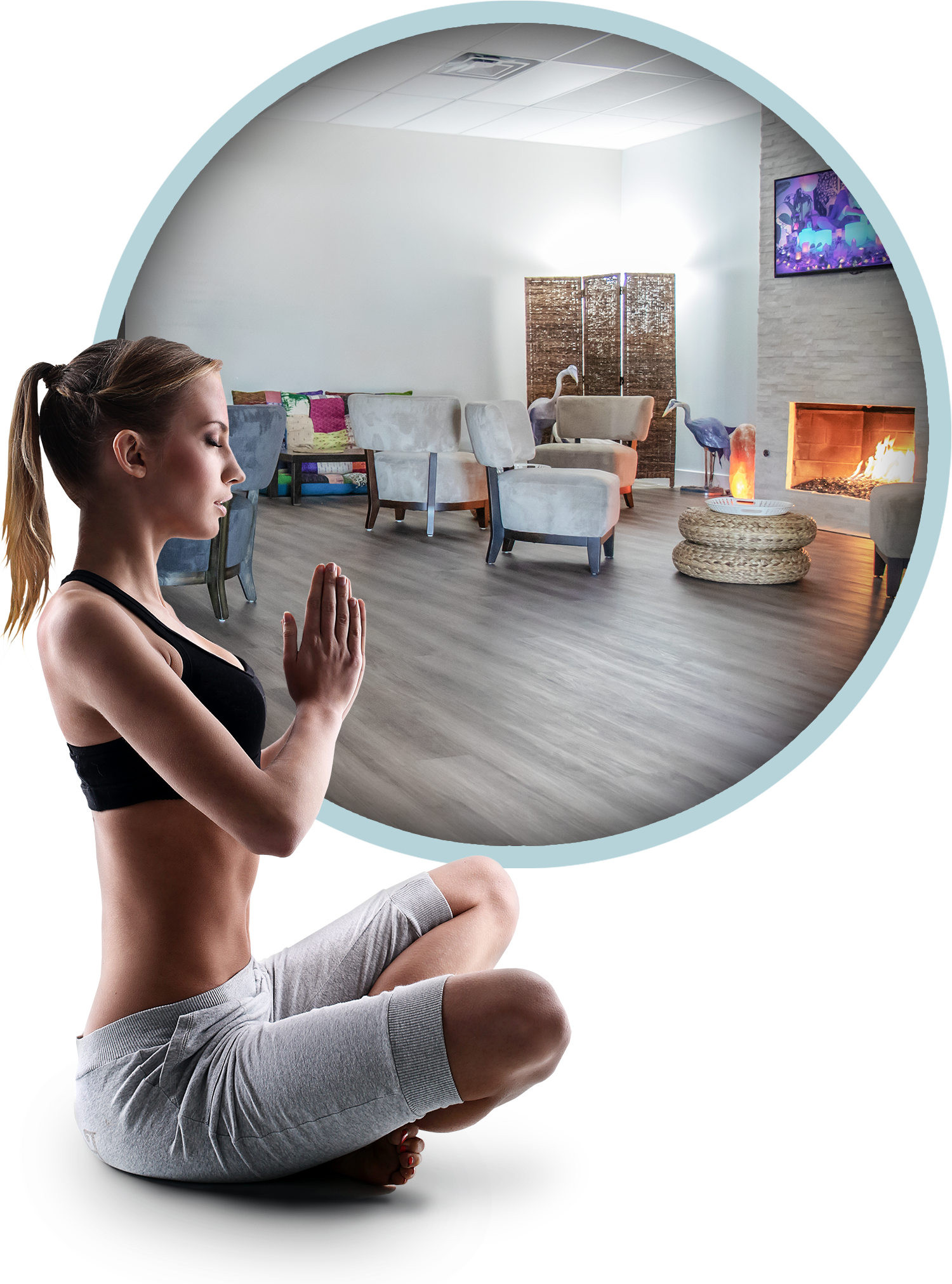 Classes/Workshops & Room Rental
At H2Oasis Float Center and Tea House, we strive to provide services that benefit all aspects of body, mind and spirit. Therefore, we offer a variety of classes and workshops. From yoga to breathwork and a host of alternative workshops and events, we bring a host of possibilities for a person to find what works best for them.
The Conscious Lounge (27′ x 27′) is available for rental and can accommodate workshops, classes and more. We also have treatment rooms (10′ x 11′) available for rent on an hourly, daily or weekly basis